On June 24th the director of Public Library "Viktor Car Emin" Opatija, Mrs Suzana Šturm-Kržić, accompanied by two librarians, set out on a journey to Ireland to finally meet in person their sister library in Galway.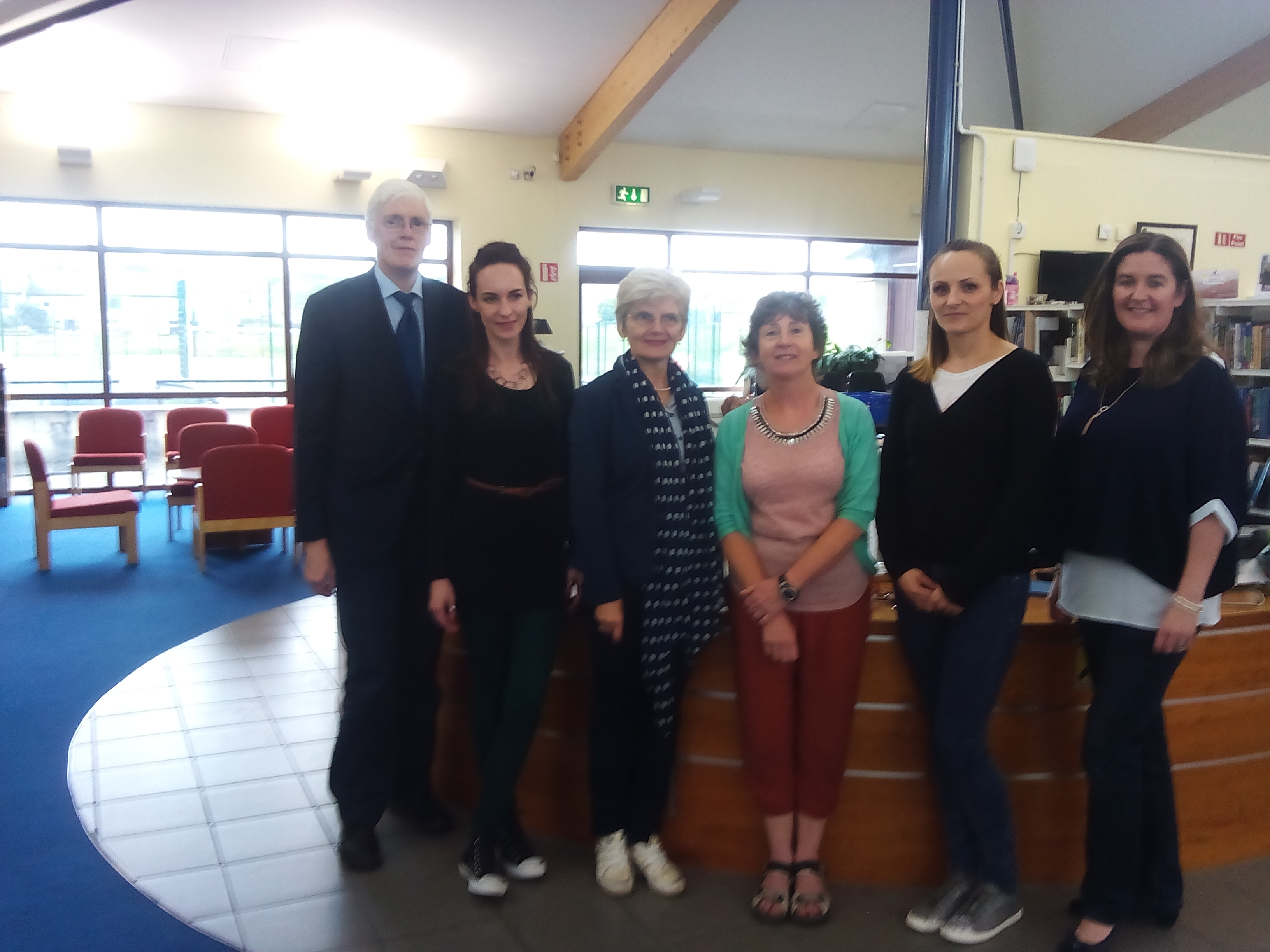 We left warm Croatian weather to arrive to 15 degrees colder Dublin. On the way to our destination, we admired the magnificent nature, until we finally reached Galway, a charming festival town on the shores of the Atlantic, which despite its multiculturalism emanates Irish history and heritage, melting the traditional and the contemporary lifestyle into a colorful and vivid mosaic of old and new.
Galway Executive Librarian Ms Bernie Kelly gave us such a warm welcome that immediately made us feel at home. Since on Mondays libraries are closed for public or work shorter hours, our hosts were completely concentrated on us.
Our first stop was the main library – Galway City Centre Library, where we were pleasantly surprised to see a book by a prominent Croatian author Branko Fučić, an expert on the old Croatian script – Glagolitic script. Finding the book immediately after entering into sistership with our library was to us a proof of Ms Bernie's dedication, will and desire for cooperation. She gave us a tour around the library, presenting the collections and explaining the functioning of the library system in Ireland. Ms Geraldine Mannion welcomed us at the children department, making us laugh with a few anecdotes from her activities with children.
Encouraged by examples of good practice, we proceeded to two branch libraries – Westside Library and Ballybane Library, where managers Elizabeth Keane and Siobhan Arkins showed us around, introducing us to their special collections, such as the Military Collection, programs, activities and book clubs running in their libraries.
The visit to our Galway sister library helped us understand the organizational structure and the functioning of the library system in Ireland. The main library and its branches are closely integrated with the local community, meeting their members' needs, while taking into account the structure and the profile of Galway inhabitants. They work successfully with various organizations, minorities and different groups of people, regardless of social class or background.
After the tour, we sat at the table to plan our future steps for a hopefully long-term, mutually beneficial and successful cooperation between two sister libraries.
To start with, Galway (Irish) Corner will be set up in Opatija Library, while Opatija (Croatian) Corner will be established in Galway Library. The corners will comprise books by Irish, i.e. Croatian authors written in English and/or Croatian, which the libraries promised to donate to each other. These will include fine literature, children books and sets of books for reading clubs.
Both libraries promised to contact Irish/Croatian embassy in their country to try to get promotional items for their sister library's corner. Furthermore, they will actively engage in finding Croatian/Irish emigrants in their country, find out who they are, what they do and try to engage them in library activities.
Since the Croatian Book Month is celebrated every year from 15th October to 15th November, to mark this year's celebration, the libraries plan to have guest authors from their sister library's country.
Finally, both libraries agreed to regularly exchange reports on the activities and events, and follow the latest news about each other on social media.
I would like to thank our dear colleagues from Galway libraries for such a warm welcome and an inspiring experience.
Recently, I have been contacted by the Croatian Ministry of Culture who expressed their approval and satisfaction with our cooperation with Galway library and gave us their full support.