Gražina Lamanauskienė, national representative of the Sister Libraries program in Lithuania, has sent us a text about this activity designed for public libraries in the summer:
June 15 – August 31, 2017 the action "The Challenge of Reading" takes place in Lithuania. This is a fun game, whose gist is to fulfill 10 reading assignments during the summer. Everyone can participate in the game: from beginners to experienced readers. During the first week, 80 libraries and several thousand participants took up the challenge of reading.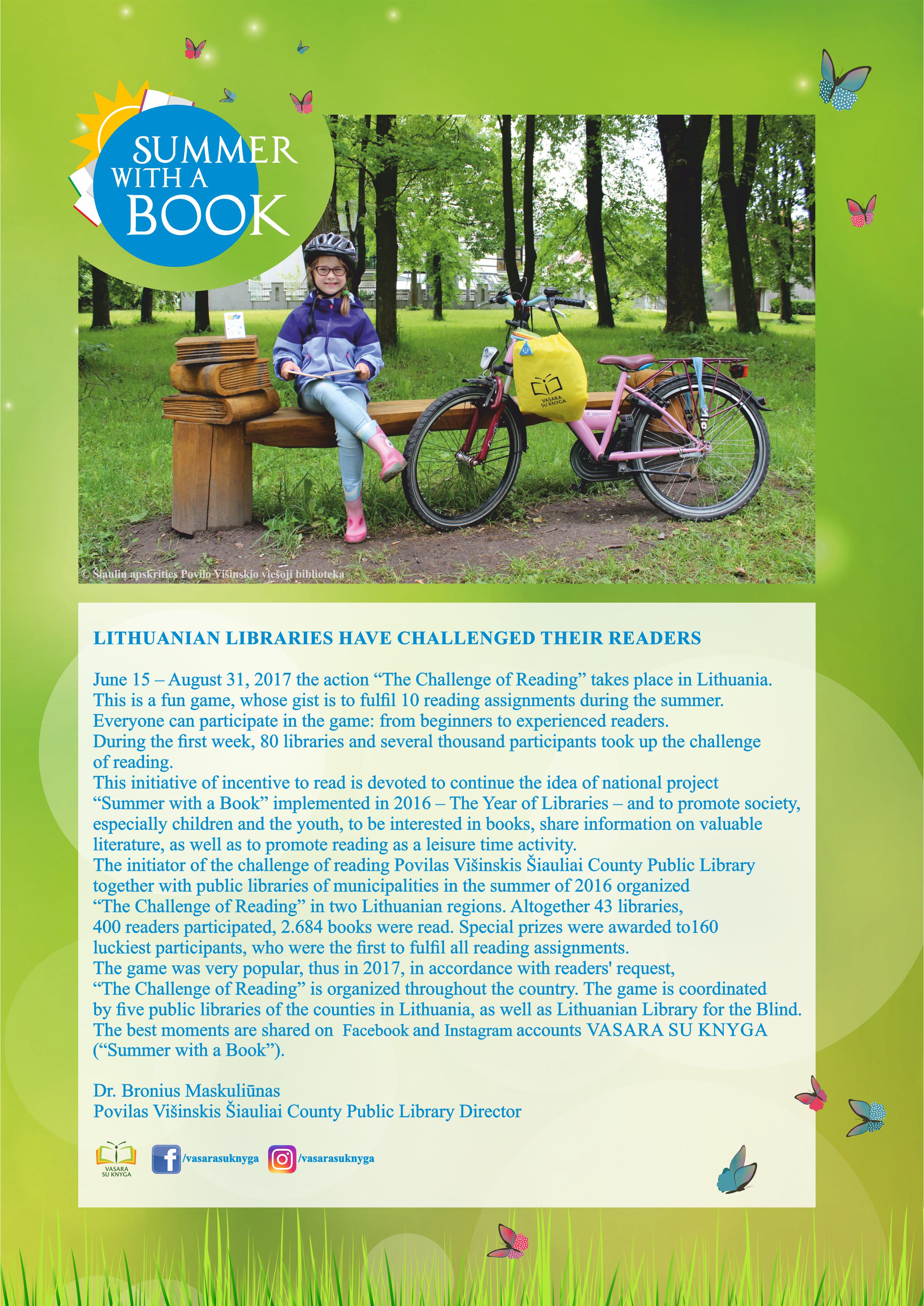 This initiative of incentive to read is devoted to continue the idea of national project "Summer with a Book" implemented in 2016 – The Year of Libraries – and to promote society, especially children and the youth, to be interested in books, share information on valuable literature, as well as to promote reading as a leisure time activity.
The initiator of the challenge of reading Povilas Višinskis Šiauliai County Public Library together with public libraries of municipalities in the summer of 2016 organized "The Challenge of Reading" in two Lithuanian regions. Altogether 43 libraries, 400 readers participated, 2.684 books were read. Special prizes were awarded to160 luckiest participants, who were the first to fulfill all reading assignments.
The game was very popular, thus in 2017, in accordance with readers' request, "The Challenge of Reading" is organized throughout the country. The game is coordinated by five public libraries of the counties in Lithuania, as well as Lithuanian Library for the Blind. The best moments are shared on Facebook and Instagram accounts VASARA SU KNYGA ("Summer with a Book").
For more information, please contact Dr. Bronius Maskuliūnas, Povilas Višinskis Šiauliai County Public Library Director, E-mail bronius.maskuliunas@savb.lt
Have you designed a special activity for the summer in your library? Do you know of any activity you think is worth sharing? Send a message to naple.sisterlibraries@gmail.com and we'll publish it in this blog!