Erasmus+ is a funding program from the European Commission that has brought together in its last edition previous grant programs: amongst others, Leonardo Da Vinci (for vocational education and training), Grundtvig (adult learning) and Youth in action (youth non-formal and informal learning).
Some participants in the NAPLE Sister Libraries have been granted in the past through the Grundtvig program: Municipal Public Library in Piekary Slaskie in Poland, participated in a project called Library I love it! with libraries from 8 different countries, a few weeks ago we announced the participation of a Sister Library from Spain, Arucas Municipal Library, in the project Migrate to the library with 3 more libraries, also funded with this program.
This widening of the scope for Erasmus+, plus the designation of 2018 as Year of the European Cultural Heritage, is an opportunity for public libraries in Europe to apply for grants in cooperation with others.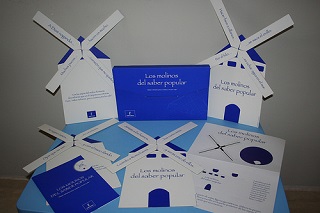 We've come across a project for libraries that wants to apply for a Erasmus+ grant. Luz Maria del Olmo, its promoter, is looking for partners in order to present the project.
This project was successfully tested in Spain. it has been implemented in various Spanish regions, but also abroad: Bogotá, Miami, Bucarest and Mexico City. It has also had an impact in the nationwide news, specialized blogs like this one and this one and it's been included in a space for educational resources from the Ministry of Education, Culture and Sports.
Luz Maria is looking for various partners to apply for an Erasmus+ grant for making an edition of this game in different languages so the Mills of Folk Knowledge can reach an international level.
Deadline for presentation of projects is next 21th March 2018.
Do you like the idea and want to be part of this? Contact her at chinbiblio@hotmail.com or write to naple.sisterlibraries@gmail.com