We would like to share with you the activities of the Vega-La Camocha Public Library (Spain) organised to celebrate Book Day. Enjoy reading!
Encounter with local author
In addition to The Trunchbull affair , on the 28th of april, the members of our Children Reading Club are going to have the opportunity to meet a famous local writer, Nuria Pariente, who lives in our neightbourhood, and ask her questions about her stories and talk about Valeria, main character of one of her most selling collection.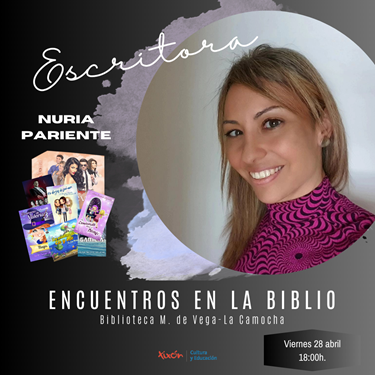 Encounter with translator
On april 20, our Adult Reading Club meet to discuss about "Homegoing" , the historical fiction novel by Ghanaian-American author Yaa Gyasi. And we have planned to take advantage of the meeting to host a virtual encounter with Maia Figueroa, the Spanish translator of Gyasi's book. The club will have the opportunity to ask her questions about the book and hear about translation techniques, anecdotes, and curiosities about the work and importance of translators in literature.
We love stories!
Miss Trunchbull, the hateful principal of Matilda's school, thinks that children's stories are a waste of time for boys and girls, who must surely dedicate themselves to much more productive things. This is why she is determined to eliminate them all from the library. We can't allow it!
Join our challenge "We love stories!" and help us stand up to her intolerance by covering her portrait with reasons in favor of stories and reading and help us save our wonderful children collection.
How are we going to do it? Well, very easy.
During the month of April, every time you come to the library to borrow books you can take one of the stickers we have designed to "persuade" her of her mistake, and stick it on her life size figure. You can also take one for yourself (they are very cool), and if you prefer you can design your own sticker with an image and your special reasons for reading.
We will start on April 2, to celebrate the Children's Bookday (well, the 3rd because the 2nd is Sunday), and if at the end of the month we have managed to completely cover Miss Trunchbull with arguments, we will have won the challenge and saved our wonderful collection childish
Cheer up to participate! Between tod@s we will make it.