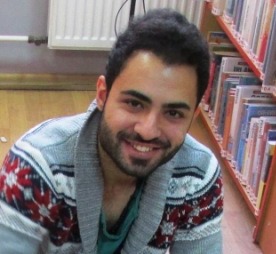 I'm Sedat from Turkey, I am 25 years old and my profession is Tourism Management. Currently I'm working in the Municipal Public Library Piekary Slaskie, Poland as a volunteer since 9 months.
My volunteering adventure have just started with reading an article and checking some photos from some of ex-volunteer who was volunteer in Poland. When I contacted him and asked some questions about volunteering I simply became fan of EVS. Later on I searched appropriate projects for myself in Poland. Finally I found out Library project. It seemed quite attractive and I applied immediately. I thought within volunteering I could be useful for society meantime I could have satisfaction for myself. Overall Librarians asked me to be work in their Library and I dealt with them.
Basically I'm responsible unique technique of painting called 'Ebru'. I am performing and teaching painting in Library to the kids, youngsters and elders. Moreover I am responsible from art library lessons based on art and creativity with children. Also I have English classes in the Library. Sometimes we go school having presentations about our countries or participating workshops. What I gained through my working is 'discovering myself' because before volunteering I was not aware of my talents or potential.
Library here surprised me! Honestly, I did not expect that equipped Library especially considering Piekary Slaskie is small town. All branches of the Library in Piekary are very well organised and connected to each other. Here library means more than books, it is a social place where people can have opportunity engage with technology, participate competitions, integrate with different cultures via EVS. Polish people are very warm according to me, they always try to help me even if they can not able to speak in English.
All my expectations fulfilled from EVS apart of cold Polish climate 🙂 I am lucky to be working in Library in Piekary because of the librarians and our director. They always helped us in that adventure. I appreciate it.
I invite all of you whose are interested with a great adventure. They should not hesitate to have first step and be part of EVS.
Sedat Gökgedik