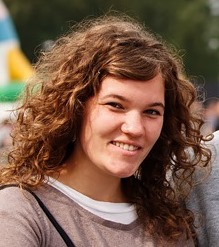 I am Léa, I am 21 years old and I come from France. I am a volunteer during one year (September 2014 to August 2016) in the Municipal Public Library of Piekary Śląskie in Poland. Before my voluntary in Poland, I studied a French-German Bachelor about German language and culture, French-German relationship and the European Union. That's why I lived last year in Germany. My experience in Germany was great, I loved living abroad, discovering new cultures, way of life, practicing German. Thus I decided to continue to live abroad and to discover a new European country: Poland.
This year was also my first time in Poland or rather in Slavic country. Before coming to Poland I knew anything about this country. Fortunately I have a lot of opportunity during this year to discover Poland: trying Polish culinary specialty, discovering Polish way of life, Polish architecture, travelling in different places in Poland, speaking with polish people, learning polish language, etc.
I decided to choose a project with social contact and children because since some years, I used to spend my summer holiday looking after children, preparing and doing activity with them; so I thought that the library has got a project which suits to me. Furthermore, I love reading books and had good memories of library in France.
In the library, I'm teaching my mother tongue, French and I'm doing different activities with children (such as culinary workshop about French dishes). I have got also some activities with the German or the English languages. We go also often to high school or primary school to do some presentations about our country, region, and traditions.
I learned a lot thanks to my activities in the library. For example, how lead activity, and exchange with people (especially with children), when you don't speak the same language. Moreover, I would like to be in the future, a French teacher for foreigners. My activities in the library give me experiences and convince me that I like this kind of job. Furthermore, my year in the library is a good time to learn and hear polish language. It's also a good place to improve my English skills.
Even if, Piekary Śląskie is a small town near to Katowice where there are not so much events during the week and the weekend, the library leads many different projects for the inhabitants of the city. The library receives also three other volunteers from Spain, Turkey and Italy. Thus, it's easier to make friends and have intercultural experiences. The librarians are also very kind and helpful, if we have some problems. It's also quite easy to reach Katowice with the bus.
Eventually, I don't regret my voluntary service in the library of Piekary Śląskie. I learn a lot during this year about Poland, intercultural experiences, French teaching, work with children, speaking in public (especially in English).
Léa Chouin